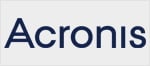 Acronis
Information
Acronis is based in Switzerland and Singapore.  
It provides security software for enterprises and home users.  
Latest Enterprise Tests on MacOS
* hover over the awards to see which product got awarded
Acronis's progress
Be the first to hear about our latest test results.
Join our Newsletter! Subscribe to our newsletter to get notified about the latest tests and news.