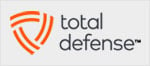 Total Defense
Information
Total Defense, headquarted in USA, produces security software since 1992 and was previously known as Cheyenne Software (InnocuLAN). In 1996 Total Defense was acquired by CA Technologies, which produced eTrust Antivirus. In 2011, Total Defense started its own business and got acquired by AppRiver in 2018.
Total Defense joined AV-Comparatives' Main Test Series in 2019.
Screenshots
Latest Consumer Main-Tests on Microsoft Windows
* hover over the awards to see which product got awarded
Total Defense's progress
Be the first to hear about our latest test results.
Join our Newsletter! Subscribe to our newsletter to get notified about the latest tests and news.